Yumeko Hananokoji (花乃小路夢子, Hananokoji Yumeko), also known as Mother-san, is a psychic counselor for ghosts who have not yet passed on. She helps ghosts adjust to their afterlives and, ideally, pass on. Yoshimori regularly supplies her with clients, as he prefers to deal with ghosts peacefully, rather than have to destroy them for staying close to Karasumori Academy.
Appearance
Yumeko has brown hair, wears pink glasses and blue earrings.
Personality
As her nickname suggests, Yumeko is a kind, friendly, motherly woman. She is fond of Yoshimori, and scolds him for not visiting more often. She has devoted her life to helping ghosts, and even patrols the town in search of them (in the manga).[1]
History
Yumeko's office is located in Karasumori, and she is occasionally assisted by her driver Ogata.[2]
Plot
Yumeko helps Yoshimori close the case involving Masahiko Tsukijigaoka, the patissier ghost who refuses to pass on. Yumeko finds the bakery where Masahiko last worked, and has Ogata gather information on Masahiko's brother Toshihiko. Yumeko also helps Yoshimori bake a cake to prove to Toshihiko that they've been in contact with his late brother.[2]
Power & Abilities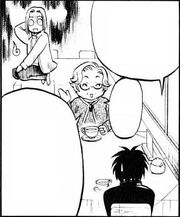 Psychic Powers (implied): Yumeko is referred to as a psychic ghost counselor, and psychic powers would explain how she is able to connect ghosts with their loved ones. She is at least spiritually aware, as she can see ghosts and Kekkaishi techniques, but this seems to be the limit of her power. Masahiko mentions that she is unable to touch him.[3]
Relationships
Yoshimori Sumimura
Main article: Yoshimori Sumimura
Yumeko is very fond of Yoshimori, and has most likely known him for several years. Though he sends her a great deal of business in the form of ghosts who need her guidance, she starts to miss him if he doesn't visit her himself.
Trivia
Yumeko's nickname (Mother-san) was given to her by ghosts who appreciated her help.[4]
References
Community content is available under
CC-BY-SA
unless otherwise noted.