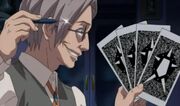 A talisman (御守, Omamori) is any object that acts as a charm to ward off evil. In the series, they generally take the form of paper charms, and have a variety of uses.
Uses
Protection
The most common use of talismans is in warding off evil beings. Though they vary in effectiveness depending on the opposing force and the power of the talisman, talismans are often placed around and in buildings to keep evil beings from entering. However, if the evil is strong enough, talismans have no impact at all.[1] Additionally, talismans can also be used to imprison or seal demons.[2]
Spell Support
Talismans can be used to strengthen certain spells. Kekkaishi especially use them in preparation for large or difficult jobs.
In preparation for her journey to Kurosusuki, Tokiko Yukimura takes a large number of talismans from her family's storehouse. She places the talismans around a cave opening and generates a dimensional portal to Kurosusuki between them.[12]
The room at the bottom of the Sumimura family's well has many talismans along its corners.[13] They are likely either responsible for the illusions that appear in the well, or assist Shimano in draining power from Legitimate Successors while in the room.
Talismans are almost always used in the repair of Shinyuuchi.
References
Community content is available under
CC-BY-SA
unless otherwise noted.