This page includes the music from the openings, endings and other music used in the anime of Kekkaishi .
Kekkaishi Anime Themes
Opening Theme
Ending Themes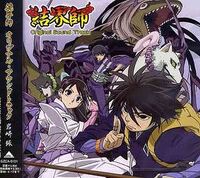 Kekkaishi Original Soundtrack
The Kekkaishi Soundtrack is composed by Taku Iwasaki.
Sha la la-Ayakashi NIGHT TV edit (Sha la la-アヤカシ NIGHT) by Saeka Uura
Sanctuary
Mother -cker
Hassle whistle
Kimi ga Te wo Sashinobete Kureta Toki (君が手を差しのべてくれた時, When You Gave a Helping Hand)
Battle ground
On the rope
Migiude no Kizu (右腕の傷)
My fault
Training days
Intercept
Tight fight
SHIKIGAMI TIME
Ani wa Soki ni Imasuka (兄はそこにいますか, Are You There Brother)
Magic mushroom
Shadow wave
From the dark side
Hit the monster
Overdrive
Sebben crudele
Improvisation
Take over destiny
Get away from here by Shinya feat. Tarantula
Community content is available under
CC-BY-SA
unless otherwise noted.