Wiki created April 15, 2009

WELCOME to Kekkaishi Wiki!!!

Welcome to the Kekkaishi Wiki, a Wiki dedicated to everything about the Manga and Anime Kekkaishi that anyone can edit. This Wiki aims to archive Kekkaishi and all related material. After you've read our Policies And Guidelines, please help us by creating or editing any of our articles! We currently have 836 articles and climbing. Please see our search tips if you can't find anything.
Plot
Five hundred years ago, as legend goes, a feudal lord was attacked by demons wanting to retrieve his mysterious inner power to take over the human world. The famous mage, Tokimori Hazama, was called upon, and with his 2 students, managed to save the whole land. But they fell ill for three days, and upon returning to the manor, found everyone inside the house dead, including the lord. The lord's power was also buried with him at the site of the Karasumori manor.

In the present day, Yoshimori Sumimura and Tokine Yukimura, heirs of the clans of Hazama's assistants, became the kekkaishi protecting the land and the power. They use a technique called Kekkai, a form of magical barrier, used to capture and destroy Ayakashi that are drawn to this land. Any demons that come near the power will become stronger and therefore Yoshimori and Tokine are to guard the land from intrusion of the Ayakashi.

But some of the demons form a powerful organization to take over that mysterious power. Yoshimori plans to destroy not only the demons, but also to gain the power to completely save the world from being controlled by demons and seal the power of Karasumori. To do that, he first needs to know what the power actually is, and also strengthen his kekkai skills.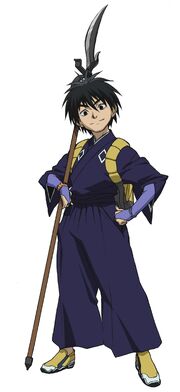 Yoshimori Sumimura

Yoshimori Sumimura (墨村良守, Sumimura Yoshimori) is a Human with Kekkaishi powers living near the Karasumori site. He is the main protagonist of Kekkaishi and the middle child of the Sumimura Family. He attends Karasumori Academy with his childhood friend Tokine Yukimura. His brother refers to him as Yoshi.
Apart from the typical features of a young teenager, Yoshimori also has a number of distinctive traits. Among these, one of the most significant is the Houin on his right palm. He is also known for his diminutive stature, although this is mostly seen when compared with Tokine, who, it must be noted, is two years his senior. He is short, has black spiky hair and brown eyes. As a child, Yoshimori was distinguished by his weakness of spirit: numerous flashbacks portray him as a boy who cried easily and frequently. His closest friend was Tokine, who often helped him when he was in trouble, despite the fact that their grandparents disapproved of them being friends. Read More....
Chapter 171: Undercover Action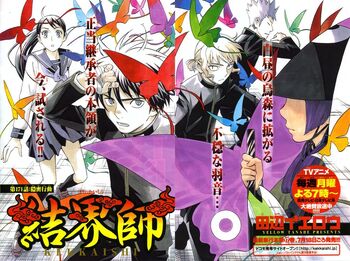 On the school roof, Yoshimori and Sen discuss the butterflies. Yoshimori assumes they multiplied, which is problematic because they are so weak that it is difficult to detect them. Meanwhile, Tokine asks Shu to destroy any additional butterflies he comes across without drawing attention. At home, Tokiko Yukimura senses a disturbance at Karasumori.
Yurina Kanda, Kyoko, and Ayano discuss Yoshimori leaving class early, as well as what they think of Sen. Yurina is distracted by butterflies in the classroom, but realizes they aren't normal when neither of her friends can see them. Yoshimori and Sen find more butterflies as they move through the school. Yoshimori leaves his Shikigami to deal with the butterflies outside, and asks for Sen's help in getting rid of the ones inside without attracting notice. Together they destroy the butterflies they come across in the middle school, with Shu (who has now destroyed one hundred) and Tokine doing the same in the high school. Read More....
Episode 1: Scars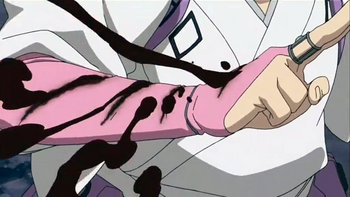 The episode starts with nine-year-old Yoshimori Sumimura attempting to take down an Ayakashi. The Ayakashi first mocks him, and then proceeds to attack him. He attempts to capture the Ayakashi with his Kekkai technique for another time, but is interrupted by 11-year-old Tokine Yukimura. Her dog, Hakubi, scolds him on his lack of speed and how he "dawdles." He reveals that he's sick of being a Kekkaishi and Tokine gets upset that he's going to ignore his duty to protect the Karasumori, which he is permitted to protect with his life. While they talk, the Ayakashi attempts to stab Yoshimori with his tail, which sprung from the barrier formed by Tokine.
In hesitation, Yoshimori traps the creature using Ketsu and uses Metsu to destroy it. After it is destroyed, Tokine opens a hole to another dimension, uses her Shakujo, and proceeds to send the Ayakashi through the hole. Read More....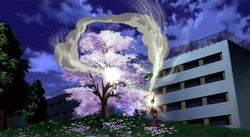 Blooms Of Karasumori
"
I will do away with them the moment they make a mistake. I will not allow any of these monsters near Karasumori.
"

–Masamori Sumimura, Chapter 61
<twitteruser username=WikiaAnime limit=3 />

To see our Archived poll, visit here.
Kekkaishi on Shōnen Sunday
Official manga website
Official anime site
Viz Media official product listing
Sunrise official anime website
Yomiuri TV official anime site
Namco Bandai official DS game site
Kekkaishi on Wikipedia